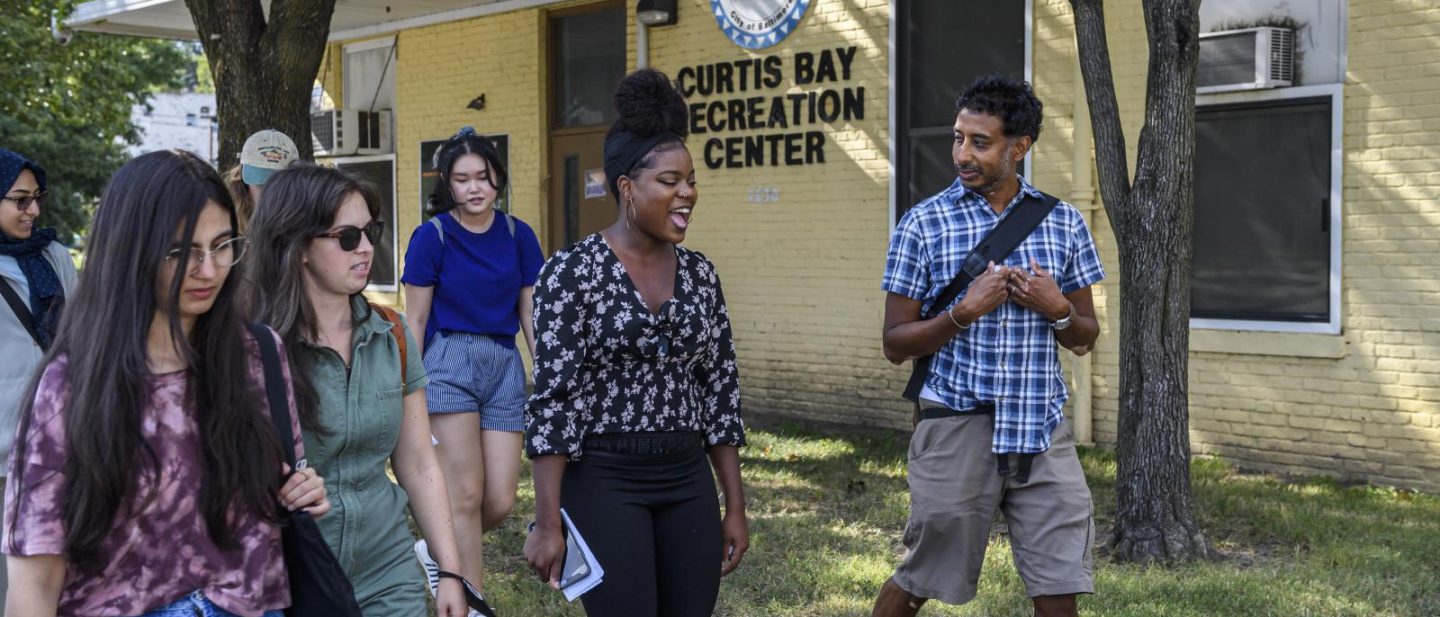 Because BIPOC and low-income populations already bear the burden of climate change impacts, pollution, and environmental harms, a fight for sustainability is inherently a fight against social injustice everywhere. 
SLC Environmental Justice Committee
The Sustainability Leadership Council's (SLC) Environmental Justice Working Group is committed to (1) mitigating the unfair exposure of poor, marginalized, and BIPOC communities to harms associated with pollution, waste, and industrial land & water use, and (2) supporting communities' autonomy and visions of change. This group works to promote environmental justice through various initiatives on the JHU campuses, in the greater Baltimore community, and beyond.
Office of Diversity & Inclusion
The Office of Diversity and Inclusion works to advance diversity, equity, and inclusion efforts in all realms of employment, research, study, and daily life across the university. Read more about their work and JHU's Second Roadmap on Diversity, Equity, and Inclusion.
CHARMED
Community Health: Addressing Regional Maryland Environmental Determinants of Disease (CHARMED) is a center based in the Department of Environmental Health and Engineering (EHE), which spans the Bloomberg School of Public Health and the Whiting School of Engineering. The Center leads an effort to build capacity in community-engaged research aimed at understanding the mechanistic links between environmental exposures and adverse health outcomes and translate these findings into action to improve the health of vulnerable individuals in communities across the greater Maryland region.
Ivy+ JEDI Working Group
JHU's Office of Sustainability is part of a Justice, Equity, Diversity, and Inclusion (JEDI) Working Group of the Ivy+ Sustainability Consortium. This group aims to engage in deep discovery and arrive at a common understanding of our institutional histories, recommend integrative program designs that uphold allyship, and communicate with internal and external partners about the imperatives of JEDI-centric work. The Working Group follows the guiding principles of Introspection, Anti-racism, Intersectionality, and Amplification.
"Climate justice is a term, and more than that a movement, that acknowledges climate change can have differing social, economic, public health, and other adverse impacts on underprivileged populations…Low-income communities, people of color, indigenous people, people with disabilities, older or very young people, women—all can be more susceptible to risks posed by climate impacts like raging storms and floods, increasing wildfire, severe heat, poor air quality, access to food and water, and disappearing shorelines."  
Source: Yale Climate Connection
"Socially, a broad range of different or unique identities at the individual or group level, including race, ethnicity, gender, gender identity and expression, sexual orientation, skin color, immigrant status, language, age, abilities, religion, political affiliation, work style, parental status, etc." 
"Environmental justice is the fair treatment and meaningful involvement of all people regardless of race, color, national origin, or income, with respect to the development, implementation, and enforcement of environmental laws, regulations, and policies."
Source: EPA
"Racial discrimination in environmental policy-making, the enforcement of regulations and laws, the deliberate targeting of communities of color for toxic waste facilities, the official sanctioning of the life-threatening presence of poisons and pollutants in our communities, and the history of excluding people of color from leadership of the ecology movements," also "any policy, practice, or directive that differentially affects or disadvantages (whether intended or unintended) individuals, groups, or communities based on race or color."  
"Aims to create fair treatment and access to resources and opportunities for all people with consideration and allowances for historical and current imbalances in power, resources, and opportunities, as well as injustices based on social group identity." 
"Creating environments in which any individual or group can be and feel welcomed, respected, supported, and valued as a fully participating member. An inclusive and welcoming climate embraces differences and offers respect in words and actions for all people."  
An inclusive form of environmentalism advocating for the protection of all people and the planet. It identifies the ways in which injustices targeting frontline communities and the earth are intertwined. Conversations within environmental spaces cannot minimize or ignore the injustices targeting vulnerable communities and natural ecosystems, but rather denote the ways social inequalities influence our perception of environmentalism, regardless of how subtle or obvious. In this way, intersectional environmentalism calls for justice for people and the planet.  
Source: Intersectional Environmentalist
Past Events and Educational Opportunities