published 9TH December 2022
Written by Izzy Nobili

Mashiyat's Story
NEW YORK
Senior majoring in Behavioral Biology
Mashiyat Ahmed has been involved with sustainability at Hopkins since her freshman year. A senior now, Ahmed will continue her work with the role of the Office of Sustainability's Zero-Waste Intern. 
"Sustainability has pretty much shaped my experience here," says Ahmed. 
In her first year at Hopkins, Ahmed joined Homewood Recycling. Throughout her three years with the group, Ahmed coordinated events like Evenings with Environmentalists, created promotional video projects, organized social media accounts, and hosted frequent tabling. Most of her work, while valuable, was event-related, according to Ahmed. As an intern for the Office of Sustainability, she hopes to focus more on administrative work.
"I want to do something where I can have a more sustainable impact," says Ahmed. "That's why I moved to the higher level programming side– the administrative side– to understand how waste initiatives come about at Hopkins." 
Mashiyat's Work 
"I will be looking into how to come up with programs to bolster the zero-waste initiatives at Hopkins," says Ahmed.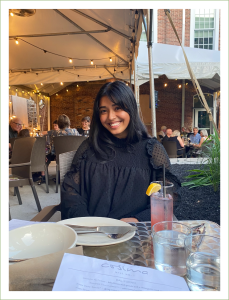 She was raised in a zero-waste household, for the most part, and attributes this lifestyle to her mother, whose pantry is filled with a ten-year collection of salsa jars that now contain spices and herbs. "I think part of [my inspiration] comes from seeing my mom with these practices," says Ahmed. "But I also wonder: why waste things?"
Among other efforts as an intern with the Office, Ahmed hopes to bring back the Free Food Alert system that existed prior to the pandemic. Her main goal, however, is to standardize waste disposal practices across all campuses. She recognizes that there are inconsistencies regarding waste separation on each Hopkins campus and hopes to eliminate such confusion by means of standardization and education.  
"When we are creating so much confusion, none of these processes are effective," says Ahmed. "Even if we have nice visuals in place, they are useless. What I am working on now is figuring out how all of these departments and campuses can come together and figure out a standardized process." 
Mashiyat's Inspiration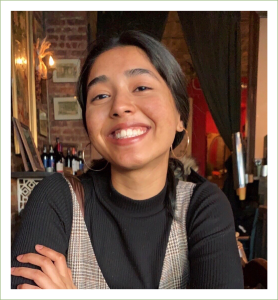 Ahmed, herself, has learned and grown from her involvement with sustainability at Hopkins. Her experience, she says, has given her new ways of understanding the problems related to our environment. She believes that change starts on a small scale and with a systematic understanding. Her work with Hopkins sustainability has given her, and will continue to give her, such a fundamental understanding.